Last April, Bold Vision launched our website and released our report that included power building and policy recommendations for transforming LA County into a place where youth of color thrive. You can see the video with highlights from the launch here. Now that the report has been released, we will be hard at work building out the Bold Vision infrastructure and implementing the report recommendations. As we do this work, we will be providing regular updates, announcements, and opportunities. This blog post represents the first of these updates.   
In the new year we've been reflecting on the work that we've done in the previous year and looking forward to the work we have ahead of us in 2023. We are filled with gratitude for our partners in philanthropy  who  have generously provided funding for Bold Vision. Without their financial support, Bold Vision would not be where it is today and we would not be on track to accomplish the amazing things we have planned in the upcoming year.
Our philanthropic partners have been involved from Bold Vision's early days. Many served on the initial Bold Vision Steering Committee where they provided strategic guidance and input for the initiative. In addition to serving on the Steering Committee, many of our partners – Annenberg Foundation, Ballmer Group, Blue Shield Foundation, California Community Foundation, the California Endowment, Conrad Hilton Foundation, First 5 L.A., and Weingart Foundation – provided financial support during Bold Vision's initial phase and helped get Bold Vision off the ground. Thanks to the support of our philanthropy partners and the hard work of the Bold Vision Community Council, Bold Vision was able to not only endure during the COVID-19 pandemic, we were able to sharpen our framework in a way that accounted for the pandemic's impact on L.A. County's youth of color.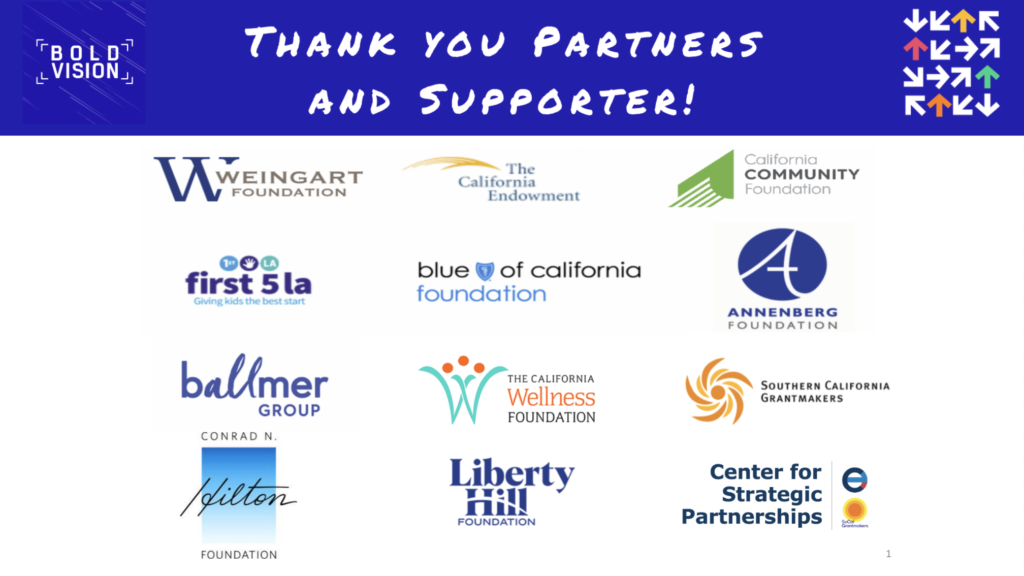 In the past year, we were lucky to have received a number of grants including grants from the Blue Shield Foundation, the California Endowment, California Wellness Foundation, Hilton Foundation, and Weingart Foundation. As a result, to date Bold Vision has secured just over $10 million dollars in funding to cover our work over the next three years. A portion of these funds will help support the formation of Bold Vision's underlying infrastructure and operations, including, the development of the LA County Youth Thriving Survey and the establishment of a Bold Vision Youth Council. The majority of the funds raised will go towards grant programs that will provide funds to advance Bold Vision's power building and policy recommendations. In the first phase of the grant programs, the grants will go towards supporting organizations that do work in alignment with the Bold Vision power building recommendations and support policy and system change efforts that are in alignment with the urgent intervention areas of housing & tenant protections, youth mental health, and basic needs.  To review the Bold Vision recommendations, download the report here. Through all of this work, Bold Vision will continue to be guided by its key values of being youth focused, community driven, and prioritizing racial equity and BIPOC leadership.
We are also very excited to announce that the Liberty Hill Foundation will serve as  the grantmaking intermediary for Bold Vision and will collaborate  with community advocates  to develop and manage  the Bold Vision grant programs. Liberty Hill Foundation shares the deep commitment of the Bold Vision Community Council to forge deeper and stronger relationships with community groups and organizers. Together they will collaborate  to ensure  that resources are available to not only respond to urgent needs, but to  facilitate the design and implementation of transformative systems and strategies.